Listen, we get it: For many of us, going on vacation comes with the desire to get an entirely new wardrobe so we have a new outfit for every day of the trip. But when you're traveling with just a carry-on (or packing for a longer trip), the reality is that you're going to need to pack versatile pieces that can work for at least a few of the events on your itinerary. 
When traveling, it's no secret that one of the best things you can pack is a versatile dress. If you choose the right one, you can make a dress-centered outfit work for casual days, nights out, and everything in-between with just a switch of shoes and accessories (and an occasionally added layer).
Packing your bags for a trip soon? Minimize your luggage and make the most of this dress outfit inspo. We promise: Nobody will even realize you're an outfit repeater.
For exploring town
dress | sunglasses | necklace | bag | sneakers
Headed out for the day to bop around shops and explore what your destination has to offer? Opt to style your dress with comfy, walkable sneakers and statement accessories (like a beaded necklace) to take on the town for the day.
To the beach
dress | sunglasses | bathing suit | bag | sandals
The ways you can style a maxi dress doesn't end at dinners and lunches—it can be thrown over your bathing suit and used as a cover-up too. With waterproof sandals and a woven bag, your maxi dress can take you straight from the beach to happy hour.
To a winery
dress | sunglasses | button-up | bag | sandals
If you're lucky enough to be going wine tasting, you want to be prepared for all possible weather scenarios. Make sure a breeze won't ruin your day by throwing a white button-up over your dress that you can take on and off depending on the temperature.
Out to lunch
dress | earrings | sunglasses | bag | sneakers
There are few things better than a destination lunch or brunch, and all it takes to make your dress work for one are eye-catching sunnies and a crossbody bag that's both practical and will earn you compliments. If you're going somewhere casual, opt for a pair of sneakers; if it's more dressed-up, swap out the sneakers for a pair of sandals.
For a night out
dress | earrings | bag | heels
No vacation is complete without at least one nice dinner and night out, which means that you'll have to have a pair of elevated shoes at the ready. Opt to pair your dress with strappy heeled sandals and gold accessories to make it work for your reservation (and the bars you head to afterward).
More vacation-worthy dresses we love
Abercrombie
Smocked Bodice Maxi Dress
Shop it now
J.Crew
Tie-back Mini Dress
Shop it now
J.Crew
Tiered Midi Dress
Shop it now
Eloquii
Knitted Maxi Dress
Shop it now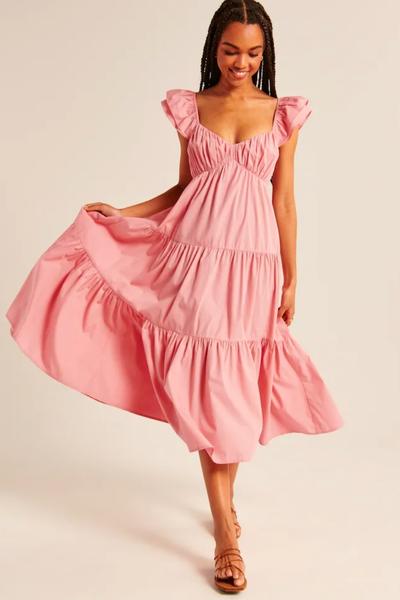 Abercrombie
Ruffle Sleeve Poplin Dress
Shop it now
J.Crew
Tie-shoulder Tiered Dress
Shop it now
Abercrombie
Babydoll Maxi Dress
Shop it now
Eloquii
Smocked One-Shoulder Dress
Shop it now
Abercrombie
Plunge Corset Maxi Dress
Shop it now
Abercrombie
Scrunchie Strap Maxi Dress
Shop it now
Abercrombie
Strapless Midi Dress
Shop it now
Going on a Trip This Summer? Our Travel Capsule Wardrobe Will Make Packing Easy
I'm a Fashion Editor, and I Cracked the Code to Packing a Carry-on