25 years ago, Kathleen Kelly logged onto AOL from her charming New York City brownstone to check the latest message from NY152. On the other end of that dial-up connection sat Joe Fox and his golden retriever, Brinkley, typing away about bouquets of newly sharpened pencils. The rest is rom-com history.

Released in 1998, You've Got Mail is perhaps one of the best romantic comedies of all time. It's a full-fledged enemies-to-lovers masterpiece, in which Kathleen, a locally-beloved bookshop owner, finds herself falling for a mysterious Internet stranger who just so happens to be her arch nemesis, Joe, the owner of a major bookstore franchise that's putting her out of business. 
It's a Nora Ephron movie at its finest, with quippy dialogue, city charm, and incomparable Meg Ryan and Tom Hanks chemistry. In honor of the film's 25th anniversary, I'm rounding up items that channel Kathleen Kelly because, even over two decades later, this woman remains an icon.
Favorite Child
Hand Scene Sweatshirt
Kathleen is a Jane Austen girl. She confesses to Joe that she's read Pride and Prejudice about 200 times and loves getting lost in the language ("words like thither, mischance, and felicity.") Undoubtedly, Kathleen would dig this simple, cozy sweatshirt that pays homage to the 2005 movie adaptation. (I personally own this and can vouch for its max comfort levels).
Shop it now
Banana Republic
Knitted Cardigan
Kathleen's closet is a cardigan-lover's paradise. We see her in many cardigans throughout the movie, which she wears with every article of clothing under the sun. This find from Banana Republic is just her style, and it's light, airy, and springtime friendly. She even chooses a cardi for her first meet-up with NY152 (the one where she runs into Joe Fox instead…).
Shop it now
Amazon
Corduroy Tote Bag
A tote for toting things is essential for any girl who daydreams while strolling through their favorite city. This cute reusable bag reminds me of the totes Kathleen carries at her store, The Shop Around The Corner, and has a distinctly '90s flare with its corduroy material. Toss in your laptop or fill it to the brim with books.
Shop it now
Old Navy
Oversized Pajama Set
In the opening scene of the movie, Kathleen starts the day in her city brownstone, ready to check for new mail from her mysterious AOL friend. She sports a matching set of striped pajamas akin to this comfy, oversized set found at Old Navy.
Shop it now
Abercrombie & Fitch
Tweed Shift Mini Dress
No one rocks a jumper like Kathleen Kelly, so it's only fitting that one should grace this list. Though You've Got Mail's costume designer, Albert Wolsky, has said that Kathleen's jumper dress wasn't a favorite of Meg Ryan's, this look became memorable. This tweed version can be worn in various seasons, depending on how you choose to layer it.
Shop it now
Kelly & Katie
Pointed Flat
While we know Kathleen loves New York City in the fall, she would certainly take a pair of trusty ballet flats into the spring season. We see this manifested at the end of the movie, during the pinnacle scene in the park, where Joe reveals his identity and says "Don't cry, Shopgirl" to which Kathleen responds, "I wanted it to be you so badly." Once you've stopped sobbing, check out these cute flats that are reminiscent of the cream-colored shoes Kathleen wears in this scene.
Shop it now
Everlane
Chino Pants
These chill chino pants from Everlane are high-waisted and versatile. They're giving a Kathleen Kelly aesthetic from the scene where she grabs lunch with Joe to discuss the impending meeting with NY152. She pairs her trousers with a belt, cardigan, and sneakers—very '90s.
Shop it now
H&M
Opaque Tights
H&M's tights are reasonably priced, durable, and comfortable. In Kathleen Kelly fashion, pair them with your favorite dress on a chillier day, and you may find yourself listening to not a sound on the city streets, just the beat of your own heart.
Shop it now
J.Crew
Bow Loafers
Kathleen is often wearing loafers to work, and J.Crew's adorable bow-adorned pair is right up her alley. In addition to neutrals, these shoes come in pink and periwinkle if you're looking to add a pop of color to your wardrobe this spring.
Shop it now
Madewell
Ribbed Turtleneck
Available in three hues, this Madewell top is the perfect springtime alternative to a heavy sweater. It's very You've Got Mail-esque, as muted colors and turtlenecks are both staple signifiers of Kathleen Kelly's wardrobe.
Shop it now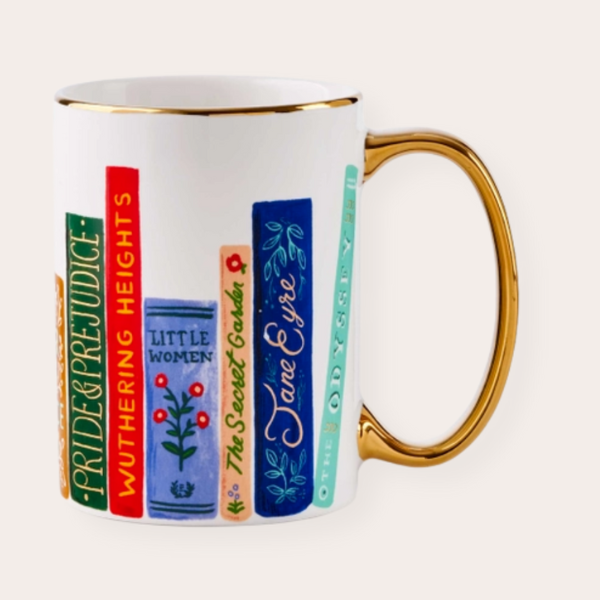 Rifle Paper Co.
Book Club Mug
This adorable porcelain mug features classic literature like Little Women, The Secret Garden, and Jane Eyre. It's a trinket that would definitely catch Kathleen's eye due to her love for books—especially the classics—and might be something she'd use to sip her morning coffee while replying to a message as Shopgirl.
Shop it now
Heyday
Bluetooth Mouse
Check your email in style with this trendy computer mouse. Connect it via Bluetooth to your computer or laptop, and spark joy during the workday—or while you're discussing The Godfather with an internet stranger.
Shop it now
Anthropologie
Marbled Glass Vase
Fill your space with daisies using this dainty and delicate vase. When Joe first visits The Shop Around The Corner, he learns that Kathleen's favorite flowers are daisies. Later on, when she's sick, he brings her a bouquet and she spruces up her home with a very similar vase.
Shop it now
5 Spring Outfit Ideas Based on Our Favorite Rom-Coms