While it may feel like we blinked and 2019 turned into 2023, a brand new year is here, and with the excitement and potential of a new year inevitably comes the excitement and potential of a whole new list of fashion trends to put on your radar. 
It's always nostalgic to look back on previous years and see what styles and clothes defined them—like the complete resurgence of Y2K fashion in 2022—and looking ahead to see what a new year will bring is like a competitive sport. While some things are sure to change and pop up as the year progresses, some new, shiny trends are already here and ready to be worn.
From shoes that will undoubtedly spark a hefty dose of nostalgia to tops that'll encourage showing some skin, these are going to be the biggest trends of 2023.
While sheer clothing used to be reserved for late nights in dark bars, in 2023, showing skin is in. Spring/Summer 2023 runways showed a steady stream of sheerness in varying degrees, from Fendi's display of undergarments and transparent tops in monochrome hues to Rejina Pyo's strategy of simply going bare underneath. 
While styling sheerness takes a bit of bravery, you can expect most to be opting for putting their undergarments on display rather than nothing at all. Hailey Bieber just displayed the trend perfectly with a sheer black dress that highlighted a minimal black bra underneath, showing that there's a reason sheerness is in: it's chic as hell.
Open Edit
Sheer Button-Up
2 colors available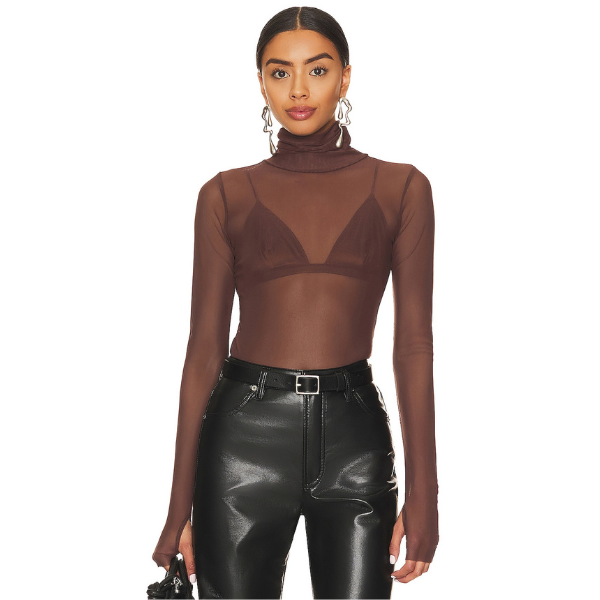 AFRM x REVOLVE
Sheer Bodysuit
2 colors available
& Other Stories
Sheer Midi Dress
2 colors available
Eloquii
Sheer Shirtdress
2022 came with the resurgence of the ballet flat, with it-girls from Matilda Djerf to Bella Hadid rocking the nostalgic shoe. If you thought the trend might die down, quite the contrary—in fact, it's officially time to pick up a pair.
Whether you're rejoicing or cringing at the notion of putting ballet flats on your feet again, one thing's for sure: It's one of the most practical trends we've seen in a while. Not only can you style them with absolutely anything, but you walk all day long in them without so much as a blister in sight. If you're a minimalist at heart, you can opt for a classic pair (tiny bow and all); if your style is a bit edgier, a pair with embellishments or straps will be more up your alley.
Margaux NY
Leather Ballet Flat
16 colors available
Loeffler Randall
Ballet Flat with Strap
ALOHAS
Patent Leather Ballet Flat
3 colors available
Seychelles
Ballet Flat
4 colors available
We saw bikercore rise up from the ashes in 2022, and it's here to stay for the new year. Moto jackets and pants, lots of leather, silver hardware, and other quintessential biker styles are back in full-swing.
While we're seeing the bikercore trend in hard-hitting, on-the-nose styling, we're also seeing it come to life in ways that give it a whole new meaning. Masculine, oversized moto jackets with feminine, flowing skirts, and head-to-toe denim looks that bring a softer edge to the style show that you don't have to cosplay as a motorcycle club member to be in on the trend. Celebs from Kim Kardashian to Julia Fox have shown to be fans of the tough-girl style, which you can expect to see even more of in 2023.
Finlay
Half Moon Glasses
2 colors available
Zara
Faux Leather Jacket
Topshop
Faux Leather Jacket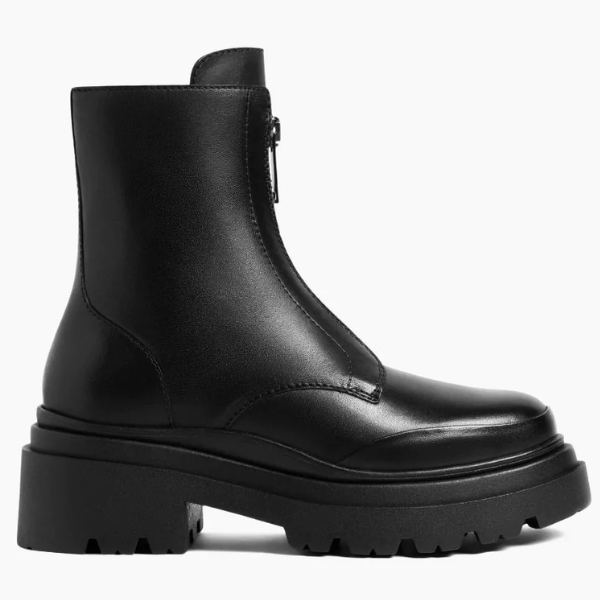 Thursday Boot Co.
Platform Boots
2 colors available
If you're hoping you'll see less cargo in 2023, well, you're out of luck. The utilitarian, many-pocketed trend has expanded from just pants to jackets, jumpsuits, and tops too. 
Luckily, however, designers have given us a fresh take on the old concept. With pieces like the ever-so-popular Frankie Shop cargo pants that feature a more minimal take on the style, you can participate in a wide range of intensity. However, the coolest among us are going to be diving in head-first, with cargo being styled in a variety of colors and textures that take it far beyond the khaki of cargos past. 
Frankie Shop
Pleated Cargo Pants
3 colors available
Lovers and Friends
Cargo Jogger
Vero Moda
Tailored Cargo Pants
Free People
Cropped Cargo Pants
10 colors available
While blazers and bedazzled bras once operated in completely different spheres, in 2023, they've learned to coexist in the most flattering of ways. Pieces that are thought of as more traditional workwear are being styled with ones that you'd label as going-out clothes, making for an unexpected match made in heaven. 
Crisp button-ups with cropped hems, suits with only a bra underneath, blazers in bright hues or with touches of metallic underneath—this trend is showing that work and play do in fact mix, and they might just be the perfect pair. To nail it, the success is going to lie in the execution. Take your favorite blazer and pair it with a bralette (you can always button it so you only see a sexy peek of the bra), or wear your go-to trousers with an unexpected metallic shoe.
Frankie Shop
Cropped Button-Up
H&M
Single-Breasted Jacket
4 colors available
LAMARQUE
Faux Leather Blazer
ASOS
Satin Suit
On Spring/Summer '23 runways, there was no shortage of silver, with the reflective hue shown on everything from outerwear to shoes. Jil Sander showcased silver sequins throughout the entirety of her collection, and Michael Kors revealed a silver midi skirt that was the stuff dreams are made of. The list could go on and on, but one thing proved to be true: In 2023, silver will be reigning supreme. You'll be seeing silver putting up a fight to beat out gold in terms of jewelry, too.
Norma Kamali
Single-Breasted Jacket
Frame
Silver Chrome Pants
5 colors available
Reformation
Chunky Loafer
8 colors available
MANGO
Square Shoulder Bag
The 2023 Trend That Already Has Our Fashion Editor in a Chokehold