As women, there are a lot of things in life that we can all bond over (walking red flags that we dated, walking into Target for two things and leaving with 17, types of alcohol that we've absolutely ruined for ourselves, and falling head over heels for Chris Evans, just to name a few). But if there's one universal pain point that we've all experienced at one point or another, it's the frustrating realization that shopping for swimwear is wildly difficult. So when our Chief of Sales and Marketing was raving about her Andie Swim experience, we had high hopes that our swimwear woes would be a thing of the past.
When it comes to shopping for swimwear, the stakes feel a lot higher than they do when we're online shopping for other articles of clothing. Feeling uncomfortable, having to adjust ourselves every 32 seconds, or not feeling our best are sure ways to ruin a perfect pool or beach day and, to be honest, the trial and error of finding a suit that's as high quality as it is flattering is a feat that we've come to dread year after year. But after hearing our coworker's stellar reviews, we jumped at the opportunity to try Andie Swim too, and now we simply can't stop talking about it.
For the first time in what we'd deem to be a miserable history with swimwear, we've finally found suits that 1) fit in all of the right places and 2) feel comfortable enough that we actually look forward to wearing them. Andie Swim is designed with every fit preference, occasion, and body in mind, and, using feedback and wear-tests from thousands of women, they've cracked the code on swimwear. Now, we are happily reaping the benefits. Three of our editors gave Andie Swim a try… here are their thoughts: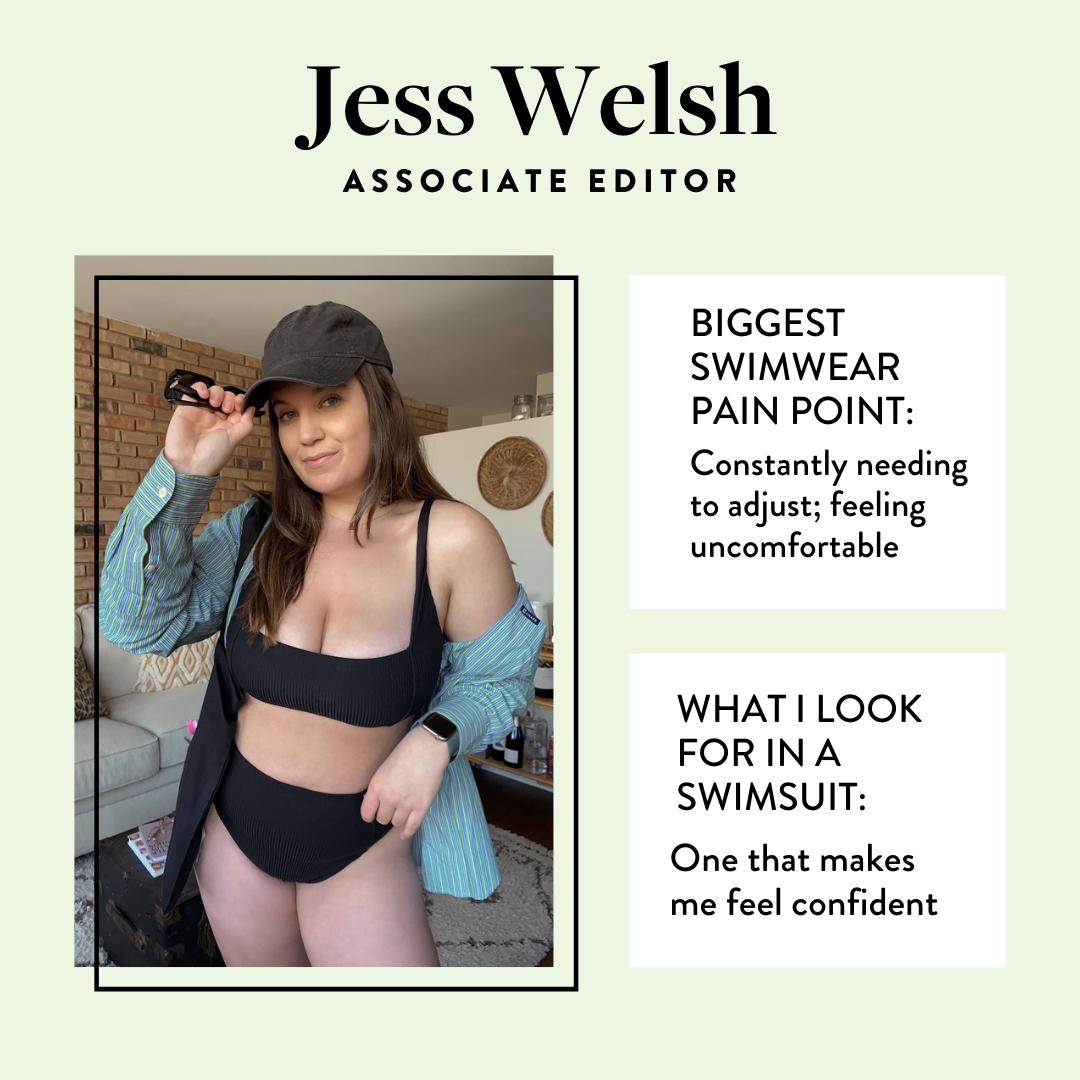 Initial thoughts:
I am one of those people who has a bin in my closet solely dedicated to bathing suits—and it's overflowing. I tend to buy a few new suits each year, usually gravitating toward less-expensive and trendier options that only last me a season or two. But even with the 20+ swimsuits I own (yeah, I wasn't kidding), it seems like each one has a flaw. They're either not comfortable, not flattering, lack coverage, constantly ride up, give weird tan lines, or have some other issue.
But the second I took my Andie suits out of the package and tried them on, I knew that I had finally found a suit without flaw. I ordered two styles: the Havana top with the High Waisted Cheeky Bottom in ribbed black and the Mykonos one-piece in espresso.
I tried the Mykonos on first, and I was immediately blown away by the quality of the material. It is smooth and silky, but it's compressive enough to be one of the most flattering one-pieces I've ever put on—while still being super comfortable. This suit has a great balance of showing off a little skin with the low cut and the super cute back but has enough bottom coverage that I don't feel like it's too much. Plus, the espresso brown color is absolutely to-die-for. I can't wait to wear this all summer long.
Andie Swim
Mykonos One-Piece
Shop it now
I loved my Mykonos suit, but I audibly gasped when I looked at myself in the mirror in the bikini that I ordered. The square-neck cut of the top paired with the high-waisted bottoms is insanely flattering, and it instantly gave me that confidence boost I've been looking for in a swimsuit. These bottoms are, without a doubt, the most comfortable swim bottoms I've ever worn. Once again, they're compressive in a super flattering way, and they feel great. I don't feel like I would need to be adjusting them all day. This will definitely be my go-to black bikini this swim season and well beyond.
Andie Swim
Havana Top
Shop it now
Andie Swim
High Waisted Cheeky Bottom
Shop it now
Fit and sizing:
The number one issue I have when it comes to swimsuit sizing is my bust size. I wear a 36DD in bras, so as you can imagine, finding a suit that flatters and supports my chest without showing too much is difficult. With the Mykonos one-piece, I was a little bit worried that it would be too revealing, and while I'm definitely showing quite a bit, I feel supported, comfortable, and confident. In the bikini, I was between sizes for the top and went with the larger size, and I am happy that I did. I got the bottoms in my usual size, and they were a perfect fit. 
The verdict:
If I could describe Andie Swim in one word, it would be high-quality. I've never really invested in a swimsuit for myself before, and I just know that I'll be wearing these suits for many years to come. They're classic but still super cute and stylish, and I can't help but think of all the fun ways I can style and wear them this summer. 
Initial thoughts:
Despite living in a beach city in southern California, I am notorious for never updating my swimsuit collection. I love to spend my weekends at the beach and am an avid paddleboarder. That being said, I tend to not invest in new swimsuits because I have a few favorites that I know I can count on to hold everything in place no matter what the ocean conditions are. When I started shopping for an Andie suit, I was shopping with one goal in mind: functionality. I landed on the white ribbed Tulum style because of the clear support it offered and how it covered the model in all the right places. 
As soon as I took the suit out of the packaging, I knew I was going to love it. Not only was it super cute, but the quality was amazing. It is the perfect material that gives just the right amount of support but is still lightweight enough to wear on a hot summer day. This bathing suit checks all the boxes for me! 
Andie Swim
Tulum One-Piece
Shop it now
Fit and sizing:
I typically waver between a medium and a large, so, out of fear that I'd be uncomfortable and stuck adjusting myself all day while wearing it, I ordered a size large in this one. In hindsight, I definitely could have gone with the medium—this swimsuit fit true to size, and next time, I'll order with that in mind! 
The verdict:
For my lifestyle, this suit is perfect—I can't wait to wear it all summer long! It fits great and is so comfortable that I am confident I can enjoy my beach days to their fullest potential. My absolute favorite part of this swimsuit is how clearly well it has been made, and I can't wait to pick out another one for lounging by the pool. 
Initial thoughts:
While some pieces you order take some time to decide if you like them or think they're high-quality, in my experience, you can tell how you feel about a bathing suit almost immediately… and I knew I was going to like this as soon as I felt it.
High-quality bathing suits usually cost a pretty penny (especially if you're buying a two-piece), and it's always been something I'm hesitant to shell a lot of coin for since they only usually last me a season or two (sitting on the cement next to Chicago's lakefront sure does a doozy to bathing suit bottoms). Because of that, I feel like I conceded to my bathing suits being more lackluster than I'd prefer… until now.
Off the bat, I could tell that this was a higher-quality bathing suit than anything I own. The material is thicker and felt more durable than my other suits, but it especially showed in how it fit my body. I generally feel like the fits of my bathing suits aren't quite right, but this one felt like it was cut to be the most flattering possible. It shows enough bottom without being too cheeky and is a perfect height of being high-waisted that it felt like it hit at the exact part of my waist I want to accentuate. The top felt like it held me in without the extra padding that so many swimsuits include.
I can't think of a bathing suit that made me feel like I literally wanted to go out and wear it immediately so quickly. It is so flattering and unique, and I didn't think about a single insecurity that I usually fixate on the second I put a bathing suit on.
Andie Swim
The Sicily Top
Shop it now
Andie Swim
The Riviera High Waisted Bottom
Shop it now
Fit and sizing:
I am almost always a true size small, and while the bottoms fit me perfectly, I did swap the top for a medium to get a bit more coverage. I have a 32C chest, and the medium fits perfectly. If you're between sizes for a top, I'd size up.
The verdict:
One of the coolest things about Andie's is that they have so many different styles in the same colorways, so I could order different tops in the same shade of espresso and mix and match them all summer—which I absolutely will be doing. Given the quality, price, and how flattering this suit is, I can't see myself ordering from any other brand this summer.
I'm a Fashion Editor, and These Are the Spring Pieces I'm Snagging Before They Sell Out
This post is sponsored by Andie Swim, but all of the opinions within are those of The Everygirl editorial board.