After a cold, long winter, there's nothing that feels quite as magical as those first spring days. The snow has melted, a warm breeze hits you, and, all of a sudden, you have a new lease on life—and nothing solidifies the new beginning as much as spring fashion has the potential to.
Pastels, florals, linens—after months and months of puffer coats and salt-stained boots, spring clothes are the unsung heroes of the fashion calendar. Sure, fall is great, but what's better than going outside without a coat on for the first time of the year in a new dress and shoes you don't have to worry about ruining in the snow? I rest my case.
As a fashion editor, I've learned harder than anyone that the nature of shopping in 2022 is that the best pieces are in stock one day and gone the next—so if you love something, you have to snap it up fast. After hours of scouring the internet for the best pieces of spring, these are the ones I'm personally adding to my cart while I still can—and I'll be thanking myself for it all season long.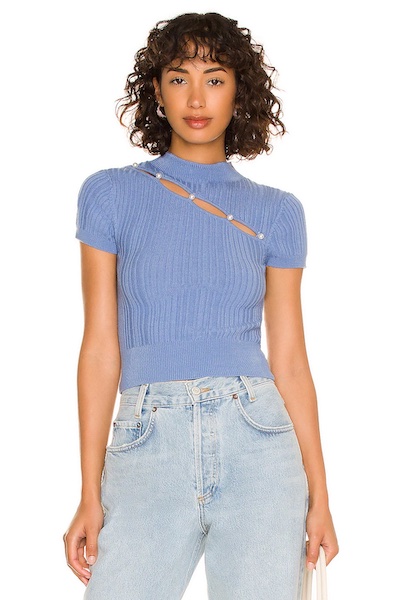 Song of Style
Short Sleeve Sweater
I'm in a stage of my wardrobe where I only really buy new tops if they really feel special, and this one feels like it's worthy of a spot in my closet. I love that the cut-out doesn't make it too revealing, so I can wear it in a million different situations and feel like a 10 every time.
Shop it now
MANGO
Oversized Button Down
I simply can't get enough of my button-ups these days, and I love the idea of swapping out my basic white one for this fun shade of green.
Shop it now
Abercrombie & Fitch
Ruched Knit Polo Mini Dress
I can't get my hands on enough dresses these days, and the gorgeous green shade of this one combined with the ruching details (which will make it ultra-flattering) makes this an instant buy for me.
Shop it now
Abercrombie & Fitch
Mini Dress
Last summer, I picked up one of these dresses for myself and got more wear out of it than I possibly could have imagined. It is incredibly flattering, comfortable, and with built-in shorts, was so wearable. I loved wearing it for work-from-home days to feel a little put together in a one-and-done kind of way. Adding another color into my arsenal is the best move I could make, and this pink is calling my name.
Shop it now
& Other Stories
Puffed Sleeve Midi Dress
2022 is all about color, so I'm trying to inject more bright hues into my closet wherever I can. This gorgeous green dress will be a one-and-done look for those glorious warm spring days, and I can see myself wearing it both to the office and on the weekends.
Shop it now
ELOQUII
Puff Sleeve Midi Dress
Have you ever seen a piece of clothing that makes you wish for spring as much as this gorgeous shade of pink? I think not.
Shop it now
ELOQUII
Cowl Neck Satin Slip Dress
There should always be a dress in your closet you can turn to for those occasions that are naturally a little bit elevated, and a satin slip dress fits the bill—especially in this stunning shade of yellow.
Shop it now
Abercrombie & Fitch
Cropped Wool-Blend Peacoat
I'm something along the lines of a jacket hoarder and like to make sure I have an option for outerwear for every curveball Chicago weather might decide to throw me. This wool-blend cropped coat will be perfect for the days I wish it felt like spring, but it just doesn't yet (and I know I'll get a ton of use out of it come fall too).
Shop it now
ZARA
Houndstooth Jacket
Certain pieces just make me automatically say yes with no hesitation, and this was one of them. The light blue shade and pearl button details have the most gorgeous, feminine effect that I know I'll appreciate for seasons to come.
Shop it now
H&M
Wide Leg Jean
I've been on the hunt for a pair of brown pants for quite a while now, and the rich, chocolate-y color of these made me pull the trigger. I love the idea of pairing this color with pastel tops for a look that brings a little more interest than a basic pair of jeans would.
Shop it now
Abercrombie & Fitch
Relaxed Trousers
If you haven't gotten the memo yet, relaxed trousers are the pants of the year, but I've yet to find my perfect pair. Abercrombie pants have never done me wrong, so I'm grabbing myself a pair of these and am looking forward to more days of ditching my jeans.
Shop it now
ZARA
Cropped Wide Leg Jeans
This shade of green is something I simply can't pass up, especially with the gold button details. I've never regretted buying any of the fun pants in my wardrobe, so these are an immediate "yes" for me.
Shop it now
AGOLDE
Two-Toned Jeans
I've had my eye on these for ages now and decided it's time to pull the trigger. They're so unique and high quality, and I can think of a million ways I'd like to style them all year round—but especially this spring.
Shop it now
Quay
Square Sunglasses
What's spring without a pair of fun sunglasses? I wouldn't know, because these pink '90s-esque sunnies will be on my face all season long.
Shop it now
Dolce Vita
Closen Clog
One of spring's biggest shoe trends? Clogs. After scouring the internet, these are my absolute favorite ones that I've found and will add a little something to even the most basic outfits, like jeans and a white tee, come spring. Trust me: These won't be in long, and I'm getting them while I still can.
Shop it now
New Balance
237 Sneakers
I wear my sneakers so often that I never hesitate to buy a new pair when they really speak to me, and these ones made me stop in my tracks. The gorgeous pastel colors and vintage-feeling design make them the spring sneaker of my dreams—and I know they'll get a ton of wear.
Shop it now
KURT GEIGER LONDON
Statement Ring
Statement rings wiggled their way back into our jewelry boxes in 2021, and I've yet to pick up one of the Y2K-inspired piece of goodness. I'm obsessed with the colors of this one and can't wait to make it the finishing touch to all my spring outfits.
Shop it now
MANGO
Beaded Baguette Bag
Gone are the days of basic bags; the time of letting your accessories do all the talking for your outfit has arrived. I've been looking for a bag that makes a statement but is still wearable, and this is it. The gorgeous beading and out-of-the-box pattern combine into a bag that I'd be a fool not to get while I still can.
Shop it now
Ana Luisa
Gemstone Necklace
I've been wanting to add a bit of color to my jewelry game, and this green gemstone necklace is exactly what the doctor ordered. Perfect for layering with other jewelry or wearing alone, it hasn't left my mind since I first saw it a couple of months ago.
Shop it now
Emi Jay
Papillon Claw Clip
My hair exists exclusively in a claw clip these days, and I've decided I simply can't live without this one. Emi Jay's clips are famous for being high quality and unique, and this lets me dip my toe in this year's butterfly trend in a subtle way—and one that I know will earn me endless compliments.
Shop it now
8 Transitional Outfits to Help You Survive Until Spring