Sign up to never miss a drop
Forgive me for stating the obvious, but shorts are for summer and big chunky boots are for winter — right? That's what's been hardwired into my brain from a young age, but I'm starting to doubt myself.
When you've got the likes of Tyler, The Creator cutting around in a puffer jacket paired with shorts, it makes you doubt everything you knew about seasonal dressing.
It's difficult to explain in words why I'm starting to look at the pairing in a different light — maybe it's as simple as a pair of boots being more interesting to look at than empty, undressed shins. Or maybe it's that it lets the top of a pair of boots, normally covered by trousers, finally get some shine.
But look at Pedro Pascal's outfit from the 2023 Met Gala and It's hard not to admit that there's something about boots and shorts that just works. The actor, whose style has been a sartorial highlight of 2023 so far, even managed to make the unconventional combination look the part together with a suit and it became a highlight of the Gala's ever-entertaining red carpet.
And it's not just Pascal, you have A$AP Rocky going full New York in a pair of Jorts and Timberland Boots, Evan Mock exploring fashion week in above-the-knee shorts and military-style boots, and Amelia Gray Hamlin leaving only a little bit of knee on show between her biker-style boots and baggy workwear shorts.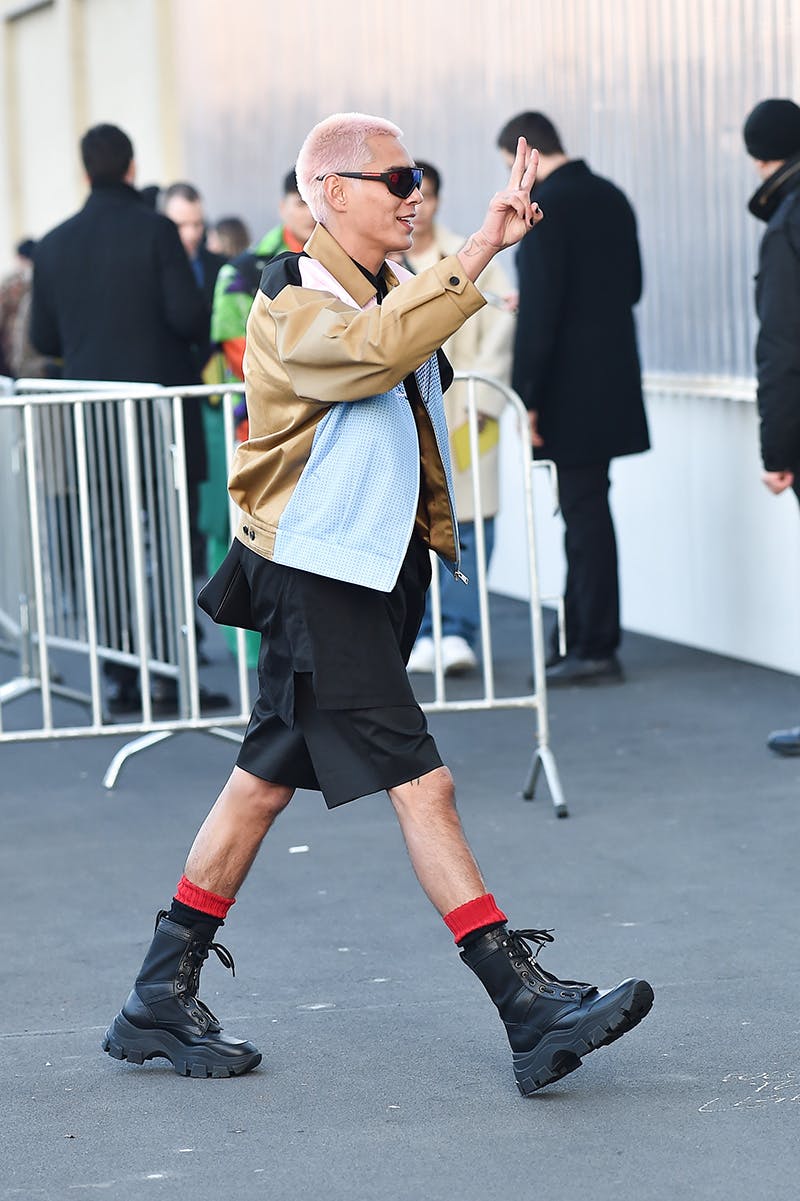 In womenswear, it's been a relatively normal thing to do, pairing heeled boots with a skirt or shorts isn't really considered anything worthy of comment but that hasn't been the case in menswear. And it's good to see the styling appreciated across the board.
The more I see it, the more inclined I am to take the plunge and add a pair of long-shafted leather boots to my spring/summer wardrobe. And the runway has been endorsing this frivolous wish.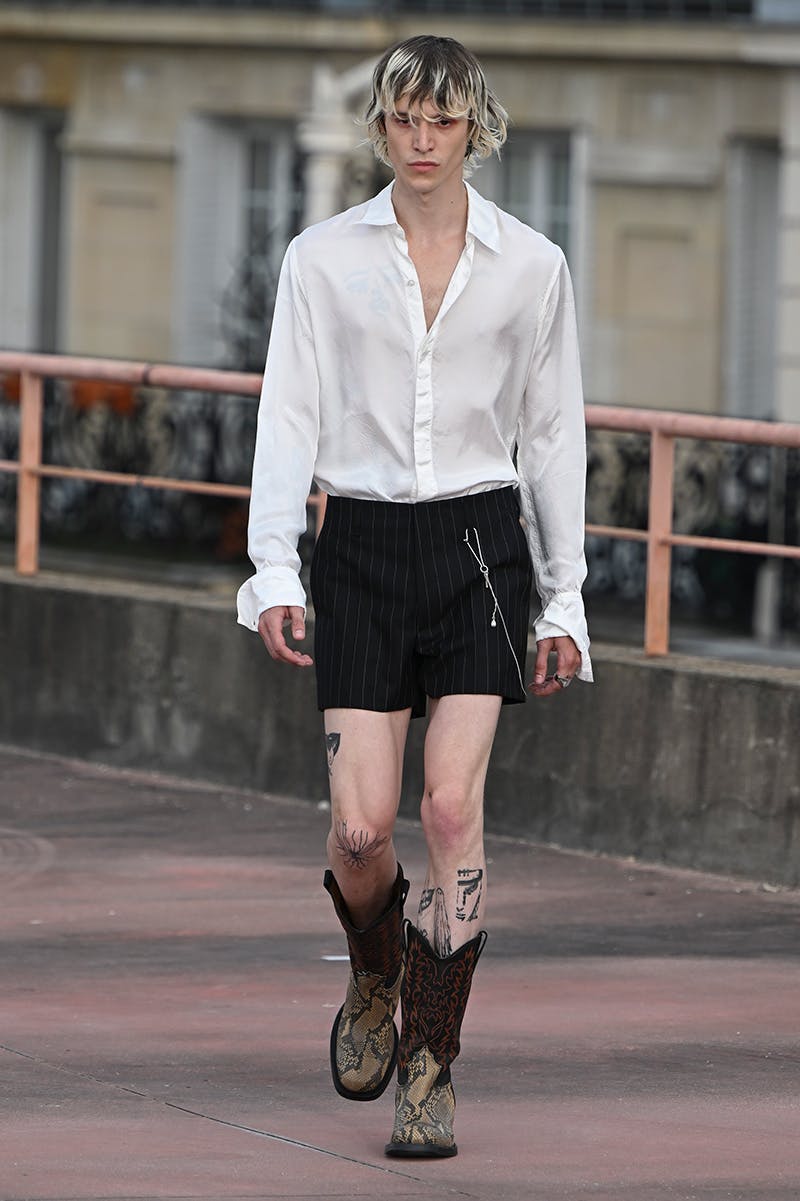 When Dries Van Noten paired printed western boots with short shorts for multiple looks in his SS23 collection, it was the final straw for me. And it was joined by Givenchy, Louis Vuitton, and even the master of minimalism Jil Sander doing the same shorts and boots trick for their 2023 collections.
Take a look at some of our favorite shorts and boots parings below, and decide whether you would like to join the logic-defying fun. Or, of course, you can just stick to pairing sneakers and shorts.
Scroll down for our favorite shorts and boots combinations
The talk of the hiking trail
Shorts and boots are for everyone and that includes all the gorp lovers. Focusing on function with GORE-TEX sneakers along with a pair of water- and wind-resistant shorts from Stone Island, take to the trails in color with this pairing.
Yeehaw!
For a full western look, the only thing to pair cowboy-style boots with is raw-hem denim shorts. Fashion's cowboy obsession isn't slowing down and we are more than happy to feed into it.
The bigger the better
This summer, we're expecting inseam lengths to continue the upward trajectory we saw last year and just keep getting bigger. You probably won't even have any leg on show when pairing Y-3's huge shorts with a pair of tall boots like these from Marsèll.
For the New Yorkers
Taking a leaf out of A$AP Rocky's book in the photo above, we're pairing Timberland's 6-Inch Boot with a baggy pair of jorts. However, we've taken things one step further with sailor-style shorts and shiny Timbs courtesy of Veneda Carter.
A match made in heaven
Trying to find two pieces in the same color is never easy but it's especially hard when they're from different brands and the color is as distinctive as this dark brown hue with hints of red. This is one of the rare times when it's been possible, as the Jacquemus shorts and Rick Owens boots above look as though they were made for each other.
Formal Affairs
For those who have summer weddings to attend, here's proof that shorts and boots are for formal days too. And if you're wondering what to wear for the top half of your look, these shorts come with a matching grey jacket.
Arriving from the future
Moncler's laceless waterproof boot is the type of futuristic footwear you would expect to find in a post-apocolyptic sci-fi movie and no label matches that vibe bette than ACRONYM. These shorts from the brand feature no less than 14 pockets along with a Mil-spec web waistband and technical fabric that's both highly breathable and water-repellent.
Want to keep browsing? Head to the Highsnobiety Shop for more products that we love. Highsnobiety has affiliate marketing partnerships, which means we may receive a commission from your purchase.