Is anyone else counting down to their first beach day of the year? I can't think of a better way to spend a warm summer day than spending sun-up to sun-down on the sand. But a trip to the beach doesn't just require a killer swimsuit you feel confident in; it requires a special kind of packing, with a bag full of beach essentials that can help you through whatever a day in the sun might bring you.
I'm notoriously known in my friend group as the girl who comes prepared for anything,—from bandaids for blisters on a night out to hand cream in my tote bag—so of course I have a note in my phone ready to send to anyone who asks, "What do I bring to the beach?"
Lucky for you, I'm spilling all my beach bag essentials that ensure a picture-perfect beach day—no sunburn included.
ban.dō
Giant Tassel Beach Towel
You beach towel is a necessity to pack, so why not make it a fun one that serves as a pop of color? This bold, printed option will bring all the good vibes to your beach or pool day.
Shop it now
FUMISO
Foldable Beach Blanket
While your beach towel is for drying off, your beach blanket is for laying on. Claim your spot in the sand with this easily packable beach blanket you'll be planted on all summer long.
Shop it now
Owala
32 Oz. Water Bottle
Leave your small water bottle at home and pack your biggest one for the beach—hydration is key, after all. This one has a lock, which will help ensure no pesky sand makes its way into your water.
Shop it now
H&M
Tie-Detail Sun Hat
The best way to protect your face from the sun's UV rays? With SPF and a hat. This cute sun hat is easily packable, and will transform your poolside attire into a full-blown look.
Shop it now
DEZI
Rounded Sunnies
You probably won't have to actually pack your sunnies as they'll be living on your face all day long, but we're partial to this chic, rounded pair.
Shop it now
H&M
Crochet Cover-Up
The best part of a beach day is that you have the opportunity to wear a chic, crocheted cover-up. You can throw it on to take you to and from the water, and even use it as a dress if you're heading to post-beach happy hour later in the day.
Shop it now
BAGGU
Nylon Wallet
Leave your leather wallet at home and opt for a nylon one for your beach day. It's waterproof, easy to clean, and will ensure you don't have to worry about getting sand or water getting on it.
Shop it now
Case-Mate
Waterproof Phone Pouch
Whether you're wearing it or throwing it in your bag, this waterproof pouch will keep your phone safe from the elements all day.
Shop it now
Amazon
Kindle E-Reader
Kindles were made for being taken on the go. Forego your book for your beach day and swap to an easy-to-carry, compact Kindle for your reading instead.
Shop it now
ANKER
Lipstick Sized Charger
Spending all day outside makes the chances of your phone dying high. Be prepared with this portable charger that can easily fit in your beach bag's pocket.
Shop it now
Talking Out of Turn
Puffy Case
The most important part of your beach bag? The tiny bag you keep inside it. This nylon bag will keep all your smaller essentials compact, easily findable, and protecting from the sun and sand.
Shop it now
Vacation
Classic Sunscreen
Sunscreen is obviously a given for a beach day, and this one smells so good, you'll actually want to re-apply it.
Shop it now
Sun Bum
Sunscreen Face Stick
Protecting your face from the sun is vital, and a stick form of face sunscreen will make re-applying throughout the day a breeze.
Shop it now
Sun Bum
SPF 30 Lip Balm
Yes, your lips need sun protection too. This SPF lip balm will make sure yours don't burn throughout the day, and will keep your lips hydrated—even if you spend the day in salt water.
Shop it now
Lumē
Deodorant Wipes
Spending all day in the sun will likely include quite a bit of sweat, but instead of packing your stick deodorant, try deodorant wipes. These work to freshen up any part of your body throughout the day.
Shop it now
Our favorite beach bags
H&M
Straw Bag
2 colors available
L.L. Bean
Zip-Top Boat Tote
8 colors available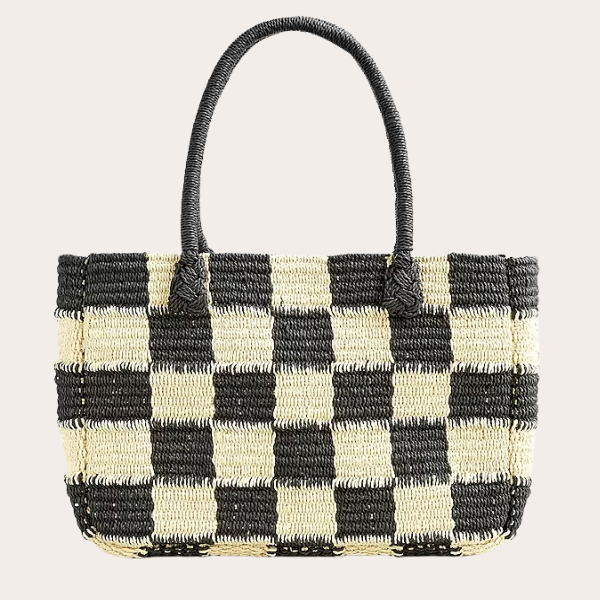 J.Crew
Straw Tote Bag
3 colors available
BAGGU
Washable Nylon Bag
5 colors available
H&M
Canvas Tote Bag
2 colors available
KALIDI
Mesh Tote Bag
11 colors available
Bogg Bag
Waterproof Beach Bag
30+ colors available
Shade & Shore
Mesh Tote Bag
8 colors available
btb Los Angeles
Straw Tote Bag
9 colors available
STAUD
Striped Tote Bag
The Sweaty Girl's Guide to Looking Cute This Summer