Every year, I find myself dreading my annual take-my-denim-shorts-out-of-storage day. You know what I'm talking about: the inevitable late-May day when you pull out all your summer clothes from years past and decide what's staying and what's going? I'm always doing fine, but once I get to my denim shorts, lose my will to go on with the process. A little dramatic, I know—but before, I didn't prioritized the quality of my denim shorts enough, which meant that I hated what I saw when I pulled them out of storage. This led me to the realization that it was time to invest in high-quality denim shorts that I'm actually excited to see every year, rather than dreading their mere existence. 
A reliable summer staple, high-waisted denim shorts are to summer as a cozy scarf is to fall. A really great pair is flattering, comfortable enough to spend the entire day in, and can be worn day in and day out all summer without stretching or showing wear. After intensive research (and some time polling our editors on which denim shorts they love) we found the 10 best pairs of high-waisted denim shorts that you can get your hands on this year. 
10 High-Waisted Denim Shorts We Love
The Cult-Favorite Denim Shorts
AGOLDE
Parker Long Denim Shorts
If you've been on the internet in the past two years, you've probably (definitely) heard rumblings of AGOLDE's famous Parker shorts. Known for being the perfect not-too-long, not-too-short pair, they're so good our Fashion Editor owns them in two different washes. If you're looking for one solid pair of denim shorts to take you from summer to summer, these are them.
Shop it now
The Mom Shorts
Abercrombie & Fitch
High Rise Mom Short
Mom jeans are knowing for hugging you in all the right places, and mom shorts are no exception to that rule. Our editors own and love these shorts for their vintage-feeling, ultra-flattering shape, and high-quality material that lasts summer after summer.
Shop it now
The Dad Shorts
Abercrombie & Fitch
Dad Shorts
These were our editors' runaway favorite shorts of summer 2022, and we've already been wearing them on repeat again this year. With a seven-inch inseam and relaxed Dad fit, they're the coolest-looking denim shorts you can find.
Shop it now
The Long Denim Shorts
Madewell
Baggy Jean Shorts
The easiest way to make denim shorts feel a little chicer? Choosing a pair with a longer inseam. To make sure yours feel relaxed and cool rather than like Bermudas from seventh grade, opt for this pair with a loose, oversized fit.
Shop it now
The Vintage-Inspired Denim Shorts
Levi's
High-Waisted Mom Shorts
We can all hope and pray that we'll stumble upon a chic pair of vintage denim shorts at a thrift store that nails that "my-mom-passed-these-down-to-me" look—but it's no easy feat. This Levi's pair is the next best thing.
These Mom shorts offer a relaxed fit that's comfortable in a cotton material that won't stretch out too much. Instead, they'll form to your body like they were made just for you.
Shop it now
The Classic Cutoff Shorts
Levi's
'90s Cutoff Shorts
A distressed pair of denim shorts adds an element of cool to any look, and this pair with a slightly longer inseam is the perfect option if you're seeking a pair of shorts that can live on your body every single weekend this summer.
Shop it now
The Short-Shorts
Good American
Classic Denim Shorts
If you love a pair of short-shorts to show off your legs during the summer, you've come to the right place. The combination of these shorts' high waist and short inseam give a daisy duke vibe that'll leave you feeling like a million bucks.
Shop it now
The Carpenter Denim Shorts
AGOLDE
Utility Denim Shorts
If you're looking for your denim shorts to pack a little extra punch, this utility-detailed pair is your new BFF. They're simple enough to wear every day, but trendy enough that you'll stand out from the sea of other denim shorts you'll be around this summer.
Shop it now
The '90s-Inspired Denim Shorts
Abercrombie & Fitch
High Rise Cutoff Shorts
Obsessed with '90s-inspired styles? These cutoff denim shorts are for you. With a looser fit and more room through the hip and thigh, they're a perfect vintage-looking option that'll make you excited to put your shorts on.
Shop it now
The Patch Pocket Denim Shorts
Madewell
Patch Pocket Denim Shorts
These Madewell shorts features patch pockets that give a vintage vibe, allowing for more playful dressing and a unique twist on classic shorts. Equipped with a narrow waist and contoured band to prevent gapping, these shorts can be a closet staple for years to come.
Shop it now
How to Find Your Perfect Pair of Denim Shorts
Figure out which details you like
Not a fan of the button-fly? Opt for a zipper. Not comfortable in super short shorts? Opt for a pair with a longer inseam. There are dozens of variations of high-waisted denim shorts available, so rather than getting overwhelmed, start by figuring out what you definitely do and don't like, then go from there.
Don't be discouraged
If you live somewhere with seasons, it might have been a whole nine months since the last time you put your denim shorts on. If yours are a little snug this year, the solution is easy: just buy a bigger size. Dwelling on the size on your pants is out, and embracing your body for where it is is in. 
Figure out what length you love
If you love your legs and want every possible inch exposed, a shorter inseam is for you; if you're most confident with a little more coverage, a longer inseam it is. Denim shorts aren't one-size-fits-all, and the length you end up choosing will make or break how confident you feel in yours; plan accordingly.
High-Waisted Denim Shorts Outfit Ideas
Paired with a knit tank
For an easy, cool summer outfit (both figuratively and literally), pair your denim shorts with a crochet tank or bra. The texture of the knit of your top adds a little extra interest to your outfit than a basic tank or tee wouldn't, and the result is perfect for anything from happy hour drinks to date night.
Universal Thread
Sweater Tank
2 colors available
Shop now
J.Crew
Sweater Tank
5 colors available
Shop now
With cowboy boots
The rumors are true: These boots were made for walking. Denim shorts and cowboy boots go together like peanut butter and jelly. Dress the combo up with a tee and blazer, or keep it casual with a racerback tank. Careful, though: This outfit is guaranteed to put a little extra pep in your step. 
Tecovas
Bloom Cowgirl Boots
5 colors available
Shop now
Tecovas
Cowgirl Ankle Bootie
7 colors available
Shop now
With a flowy blouse
Remember that little blouse you picked up you told yourself you'd wear as a "going-out top" or that you bought for a vacation and never wore again? Wear yours with your high-waisted denim shorts this summer. A fun, breezy top (or colorful crop top) pairs perfectly with denim shorts for a summer night out. The combo is minimal effort, high reward.
ZARA
Beaded Linen Blouse
Shop now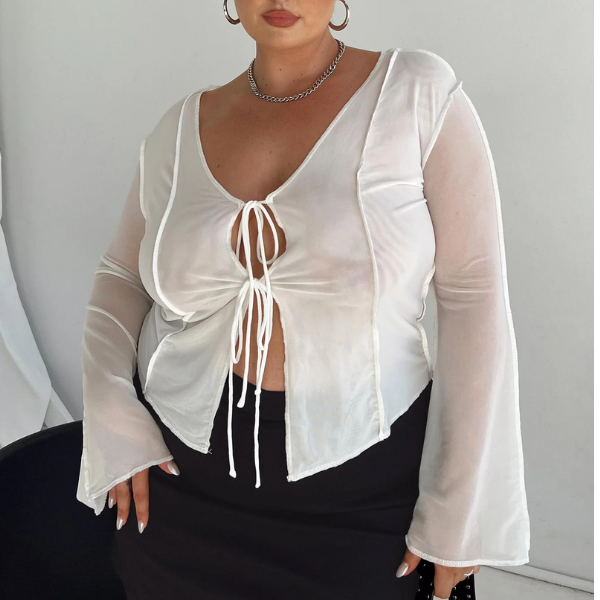 Princess Polly
Cutout Top
Shop now
With your favorite graphic tee
Whether you're heading to the beach, Farmer's Market, or out for a day of errands, an oversized graphic tee with your denim shorts peeking out underneath is the coolest casual outfit to throw on for the day. If it's chilly out, pack a button-down shirt to take on and off as the temps change throughout the afternoon. Accessorize the combo to your heart's desire and wear it on repeat all summer long.
Abercrombie & Fitch
Oversized Graphic Tee
Shop now
Target
Ford Graphic Tee
Shop now
25 Flat Shoes You Can Walk in All Summer Long