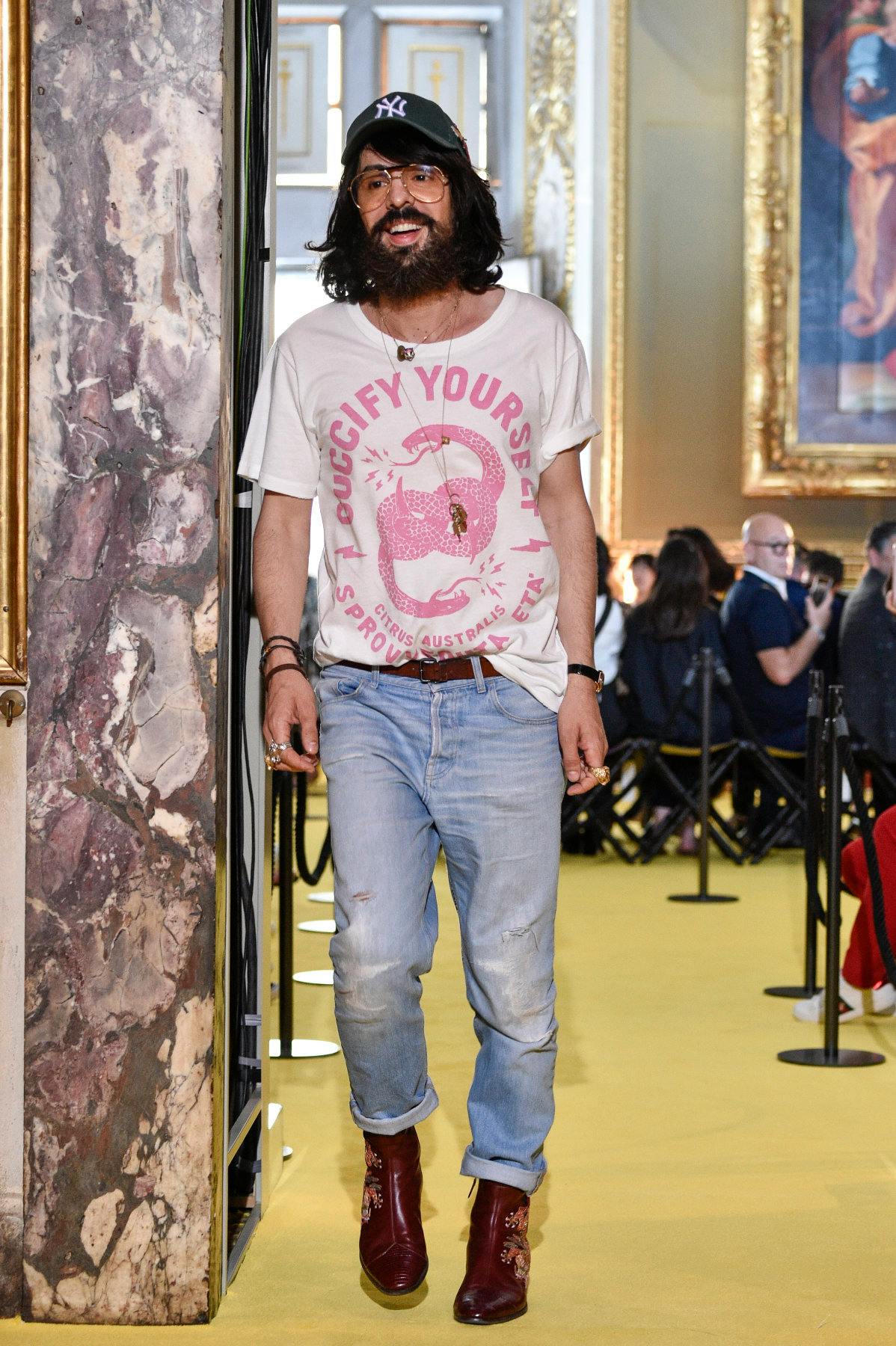 This article was published on March 20, 2023 and updated on May 9
Who wouldn't want a piece of Alessandro Michele? The former Gucci creative director is currently a free agent and, for a luxury house seeking some star power, Michele has gotta look like a hot prospect. But where's he actually going?
Social media thinks that Alessandro Michele is off to France. After spending a half-decade or so in Florence, it doesn't sound entirely unbelievable that the Roman designer would be off to an entirely different fashion capital, though Michele is unsurprisingly mum.
Whispers about Michele's potential move picked up steam in mid-March. They were re-energized after Pharrell was announced to be joining Louis Vuitton and Daniel Lee debuted his first Burberry collection though didn't seem to be prompted by anything in particular, except a general restlessness to see Michele land somewhere solid.
With Jeremy Scott leaving Moschino on March 20, some commenters were eyeing Scott and Michele to trade places.
But that ain't happening, at least on Gucci's end.
Gucci's secured Sabato De Sarno as creative director after leaning on its in-house design team for the Fall/Winter 2023 season, while Scott's next job is also already lined up, according to what the designer wrote when announcing his departure from Moschino.
Alessandro Michele at Moschino? Possible, as the two definitely do share some indulgent design philosophies, but whereas Moschino was always joyfully tacky (it had a diffusion line and fragrance called "Cheap & Chic"), Michele's maximalism is more earnest, opulent, aspirational.
Two other destinations for Michele that recurrently come up in Twitter threads and TikTok clips are Chanel and Lanvin, though both houses currently have fairly comfortable creative directors.
Plus, fashion Twitter/Tok tend to assume that their personal tastes dictate the current fortune of the brands they discuss — if they're lukewarm on Virginie Viard's Chanel, for instance, they imagine that the maison's execs feel similarly, even if sales are actually quite strong, as some insiders suggest.
Another potential Michele destination being tossed about: Givenchy.
Seems an odd fit for Michele, at least on paper — When I think Givenchy, I think of clean, simple, crisp clothing entirely at odds of Michele's signature OTT design ethos — but if Matthew M. Williams' turn at Givenchy has made anything clear, it's that these houses are dictated entirely by their creative directors, not the other way around.
On May 9, nearly two months after rumors about Alessandro Michele's next move began, the pot was stirred by the news that self-described "investment platform" Bidayat Group had purchased the rights to defunct luxury imprint Walter Albini.
Nothing inherently exciting there but one especially enthusiastic TikToker who firmly believes that Michele is destined to take the reigns of the relaunched label, citing supposed evidence like Bidayat offering no comment to a journalist when asked about Michele and the fact that the official Walter Albini Instagram page follows Michele.
However, the Walter Albini IG account also follows over 430 other industry folks, including stylist Lotta Volkova, OG blogger Bryanboy, photographer Willy Vanderperre, CELINE director Hedi, Schiaparelli designer Daniel Roseberry, and a slew of other creatives (and the Highsnobiety Shop, amusingly enough).
Who's to say that Michele, of all those famous fashion folks, is set to take charge of a relatively niche fashion label overseen by a money-management firm?
It's certainly possible and some interesting circumstantial coincidences make it sound extra tantalizing but this is pretty loose speculation fueled by even fewer folks than the people boosting rumors of Michele heading to Chanel or Lanvin.
At the end of the day, I'm curious if Michele's trademark kitchen sink approach will be applied to whichever fashion company he lands at. It's hard to imagine Michele, who applied a maximalist touch to romanticized retro ready-to-wear, not consistently going for baroque.
However, that was apparently the reason he departed Gucci, according to scuttlebutt (Michele and Gucci management reportedly clashed over desire to introduce a fresh perspective).
Considering the direction that Lee took Burberry in, though, maximalism may be swinging back into the spotlight. If that's the case, whoever hires Michele will be well-positioned to cash in.