Every year when summer comes around, I've found myself in a cycle of only wanting to wear dresses. Do you know what I mean? Summer dresses are the perfect clothing item to lean on in high temps. An exercise dress as I jot off to run errands (and perhaps a workout class or two), a long sundress at a backyard BBQ, a breezy slip dress at brunch—the list goes on and on.
While a little summer dress is what I'd like to be wearing at any given moment, sometimes the search for the perfect dress doesn't go so well for me. At 5'2″, I'm always trying on dresses to be let down when "mini dresses" go past my knees or maxi dresses pile up at my feet—at this point, I don't even bother ordering dresses online because I already know the hem is going to be too long. 
That's why this year, I made it a self-assured goal to find the perfect petite summer dress—no matter how long that search would take. In my book, a summer dress has got to have a few characteristics to be perfect. First, am I comfortable in it? Do I see myself being able to wear it for the entirety of the day without looking forward to taking it off? Second, what's the vibe of the dress? I'm always looking for a versatile dress that can be worn casually with sneakers and slides or formal with heels and a clutch.
I now stand humbly before you to announce my search has proven to be successful. Below, you'll find dresses that are a blessing for petite bodies—no tailoring required. 
The 20 Best Petite Summer Dresses
Petite Mini Dresses
When it comes to mini dresses, finding them in a petite size can always be hit-or-miss. If the hem is too long, the look might make you look shorter—which you probably don't want if you already have a petite frame. However, if the hem is too short, you risk a wardrobe malfunction or potential Marilyn Monroe-manhole-moment at any point of the day. Mini dresses are ideal to wear on scorching days with simple sandals or sneakers. 
Abercrombie & Fitch
Smocked Mini Dress
A simple white mini dress should be a staple in your wardrobe. This crinkle mini dress is practically begging to be worn on a beach boardwalk while the sun sets and your hair is salty and undone.
5 colors available
Shop it now
Anthropologie
Button Front Mini Dress
Puff sleeves? Yes, please. The silhouette of this dress is oh-so sweet and will work on even the hottest of days. Paired with some sandals and a raffia bag, this dress is ideal for vacations or a patio dinner with the girls.
5 colors available
Shop it now
Banana Republic
Poplin Shirt Dress
If you love your classic white button-up, take it to the next level with the dress version. It's classy enough for office-wear and casual enough to pair it with sneakers on your casual Fridays.
3 colors available
Shop it now
Anthropologie
Denim Utility Dress
If you haven't picked up a denim dress yet, now's the time to. Denim dresses are versatile year-round, as you can wear them with tights in the colder months or sandals in the summertime.
2 colors available
Shop it now
Abercrombie & Fitch
High Neck Linen Dress
This dress is giving the ultimate Sofia Richie vibes. It comes in six different colors and looks good with everything—literally.
6 colors available
Shop it now
Abercrombie & Fitch
Plisse Mini Dress
This simple plisse dress is ideal for any formal occasions you have this summer where you want to stay cool. Grab a mini handbag and some kitten heels and you're all set.
3 colors available
Shop it now
Abercrombie & Fitch
Vest Mini Dress
Haven't you heard? Vests are here to stay. Take it into your own hands with this dress version, which gives a fun, fresh take on the suiting trend.
5 colors available
Shop it now
Anthropolgie
Mini Shift Dress
I'm a sucker for a dress with fun little details, and the tassels on this one are giving ultimate summer vibes. Whether you're going out for the night or are heading to a friend's birthday dinner, this dress will get the job done.
4 colors available
Shop it now
J.Crew
V-Neck Shift Dress
Cinched with a belt, worn on its own, or layered with a jacket, the outfit options are limitless with this classic dress option.
3 colors available
Shop it now
J.Crew
Square-Neck Dress
A square-neck dress look flattering on everyone, and this linen number is a no-brainer to keep in your closet and turn to for any occasion.
3 colors available
Shop it now
Petite Midi & Maxi Dresses
Finding a midi or maxi dress that works when you're shorter than 5'5″ can be a challenge. You don't want to be getting lost in layers and layers of fabric or tripping over a pesky hem, but you don't want them to be too short, either. Given their versatility, they're a summer must-have. They can be worn on vacations or even just to lounge around the house (remember 2020's nap dress fad?). The best part? They require little to no styling.
Reformation
Linen Dress
Is this the dress anyone else's dreams, or just mine? With a corset bodice and lace details, this floral linen dress is the perfect way to romanticize your every day (or trips to the coffee shop).
2 colors available
Shop it now
Abercrombie & Fitch
Smocked Maxi Dress
This dress is made for throwing on with a pair of sandals and heading out the door with little-to-no thought. It's the gift that'll keep on giving throughout the warm months.
4 colors available
Shop it now
Anthropologie
Cowl Neck Dress
If you have a summer wedding to attend, this colorful slip dress is one you can dance the night away in. It also boasts a sexy slip that'll help with air flow on extra-warm nights.
Shop it now
Anthropologie
Linen Maxi Dress
Going on vacation this summer? Wear this dress. Meeting a friend for coffee? Wear this dress! A button-up linen dress will have you feeling put-together even on the most stressful of days.
3 colors available
Shop it now
J.Crew
Slip Dress
A slip dress is known for being a reliable wardrobe staple, but this floral one switches up the classic silhouette and makes it feel brand-new with a bold, summery print.
5 colors available
Shop it now
Abercrombie & Fitch
Crinkle Maxi Dress
This editor-approved dress is a great piece to lean on for any and all summer activities you've got in store. Wine tastings, late nights around a bonfire, or even working from home, this dress is one to pick up. Plus, once fall rolls around, it'll look just as good with a jacket over top.
5 colors available
Shop it now
Banana Republic
Linen Maxi Shirt Dress
This gorgeous linen dress is the petite maxi dress I've been waiting for my whole life. It's classic, versatile, and sure to last a lifetime.
3 colors available
Shop it now
J.Crew
Eyelet Hem Dress
Eyelet lace details are a must in the summer months, and this dress with an eyelet hem is the perfect way to showcase gorgeous eyelet details.
3 colors available
Shop it now
Abercrombie & Fitch
Drop Waist Maxi Dress
Drop-waist details have been one of the hottest trends of the year, and this Abercrombie dress is one of the most gorgeous ways we've seen it featured. Date night, anyone?
2 colors available
Shop it now
Anthropologie
V-Neck Maxi Dress
With a romantic v-neck and button-up front, this dress is ultra-flattering, and can seamlessly take you into transitional weather.
2 colors available
Shop it now
How To Style Your Summer Dresses
Once you have a couple of dresses in your arsenal that fit like a glove, you can make them your own every day with how you style them; particularly, with how you accessorize them. Need a little inspo to get you started? Here are four dress-centric outfits worth copying ASAP.
With a basket bag and leather sandals
There's nothing that screams "summer" more than adding a raffia or wicker bag to your outfit (plus, one will make your casual summer dress look instantly elevated). Keep it simple with your shoe choice and opt for leather slides to tie the whole look together. I don't know about you, but this outfit makes me want to stroll through a park or romanticize my trip to the Farmer's Market.
J.Crew
Basket Bag
COACH
Crossbody Basket Bag
2 colors available
Sam Edelman
Cutout Leather Slides
16 colors available
Madewell
Rope Slide Sandals
4 colors available
With platform sandals and your favorite sunnies
If you asked me, I'd say a pair of platform sandals and some killer sunnies are the official cool-girl accessories of the summer. When paired with your breezy summer dresses, the killer accessory duo are ready for a day out in the heat. The platform sandals will also give you a little added height, which is something I never say no to as a petite girl myself.
Fifth & Ninth
Oval Sunnies
3 colors available
DEZI EYEWEAR
Almond Oval Sunnies
2 colors available
SEYCHELLES
Buckle Platform Sandals
Nine West
Espadrille Platform Sandals
2 colors available
With a beaded bag and block heels
If you're heading to a formal event, opt for our favorite accessory of the summer: the beaded bag. Practically a piece of artwork itself, the beaded bag serves as a talking point for optimal fashion-forward conversation. When combined with strappy heels and your dress of choice, it's a look that's made for a date night or reservation at your town's hottest new restaurant.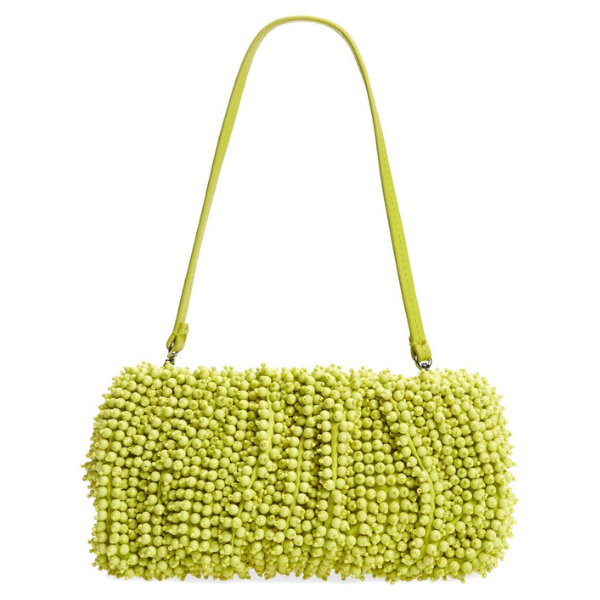 STAUD
Bean Beaded Bag
2 colors available
J.Crew
Mini Pearl Bag
Lisa Says Gah!
Bow Sandals
3 colors available
Sam Edelman
Lace Up Heels
With a tote bag and hoop earrings
Never underestimate the power of jewelry—especially when you're looking to elevate a simple, one-and-done dress. Hoop or statement earrings will add personality to even the most simple of looks. Complete it by wearing your favorite XL tote on your shoulder, which will come in handy if you're wearing the combo for a day of running errands.
gorjana
Disc Hoops
Jenny Bird
Large Hoop Earrings
Dagne Dover
Organic Cotton Tote Bag
2 colors available
Casa Clara
Handwoven Bag
It's Official: These Are The 7 Biggest Sandal Trends of the Summer